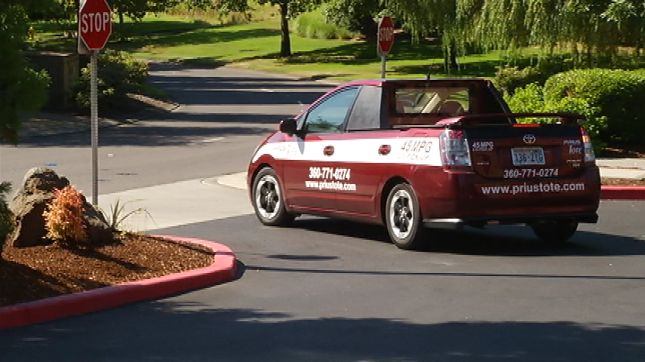 PORTLAND, OR (KPTV) -
A local man has beefed up his Prius into a 50 mile per gallon truck.
Mark DeSomer got the idea for the Prius Tote after noticing business trucks hauling little or nothing. So, he put a truck bed in what used to be the back seat of his Toyota Prius.
He saves $175 a month on gas compared to his old pickup.
The Prius Tote has storage drawers, access to the cargo area and can haul up to 400 pounds.
DeSomer says Toyota will eventually come out with a new hybrid pickup, but until then, he would like to take over this niche in the market.
DeSomer says a few people want him to build them a Prius Tote.
Once more people are interested, he will start converting the cars for about $4,500 each.
For a link to DeSomer's blog, click here.
Copyright 2011 KPTV. All rights reserved.