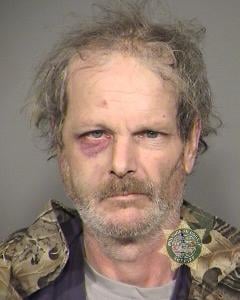 PORTLAND, OR (KPTV) -
Police say a man armed with a hacksaw tried to saw through a car and attempted to cut an employee at a pizza restaurant in downtown Portland on Monday.
Officers were called to Silver Dollar Pizza at 225 Southwest Broadway just before 5 p.m. after getting a report of a man waving a hacksaw and trying to cut the doors.
As officers were en route, emergency dispatchers told them the man was nearly hit by cars as he approached them in the street. They also say he began sawing at one car with the hacksaw.
Officers found the man at Southwest 6th Avenue and Oak Street, and demanded he drop the hacksaw.
Police say the suspect, later identified as 52-year-old Richard Tomlinson, refused, and he was shocked with a Taser. Tomlinson then dropped the saw and surrendered to officers, police say.
When officers spoke with a victim and witnesses at Silver Dollar, they were informed Tomlinson tried to hack one of the employees with the saw, authorities say.
Tomlin was booked into the Multnomah County Jail on charges of second-degree attempted assault, second-degree disorderly conduct, menacing and harassment.
Copyright 2011 KPTV. All rights reserved.