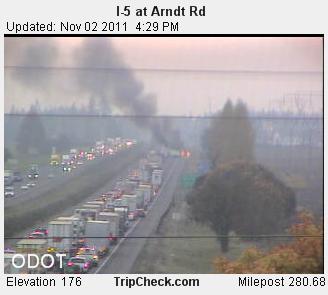 WILSONVILLE, OR (KPTV) -
Southbound Interstate 5 traffic was backed up for miles during Wednesday evening's commute after a bus caught fire near Wilsonville.

Oregon State Police say there were 10 people on board the SMART transportation bus at the time and everyone escaped unharmed.
Fire investigators are trying to determine the cause of the blaze.
All lanes of the interstate reopened at about 6:15 p.m.

Copyright 2011 KPTV. All rights reserved.