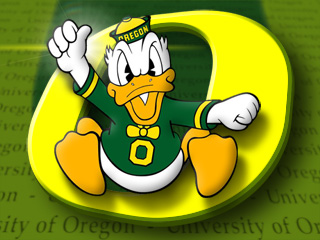 EUGENE, OR (AP) -
Matt Barkley threw for 323 yards and four touchdowns and the No. 18 USC Trojans held off No. 4 Oregon 38-35 on Saturday night when Alejandro Maldonado missed a 37-yard field goal to tie the game with five seconds left.

Trailing 24-7 in the third quarter, Oregon mounted a furious comeback and narrowed it to 38-35 with 7:05 left in the fourth quarter. Barkley led his team to the Oregon 15, but Marc Tyler fumbled and the ball was recovered by the Ducks with 2:54 to go.

Oregon marched down the field but Maldondado's kick, which was brought five yards closer because of a USC penalty, went wide left.

The loss snaps a 21-game winning streak for the Ducks (9-2, 7-1 Pac-12) at Autzen Stadium, which was the longest in the nation. It also stopped Oregon's winning streak in conference games at 19.

Robert Woods, who was held out of some practices this week with ankle and shoulder injuries, caught seven passes for 53 yards and two scores. With the victory, USC (9-2, 6-2) kept the Ducks from clinching a spot in the inaugural Pac-12 championship game.

(Copyright 2011 by The Associated Press. All Rights Reserved.)