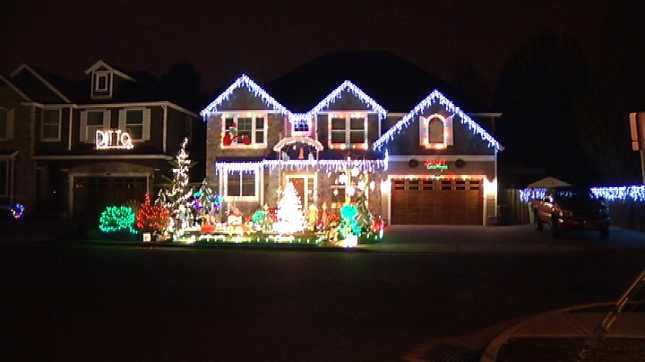 BEAVERTON, OR (KPTV) -
How do you compete with your neighbor's elaborate Christmas lights display that has songs, handmade characters from How the Grinch Stole Christmas and thousands of lights?
A Beaverton family couldn't match their neighbor's Christmas devotion on Northwest Thompson Street, but they did echo the message with one word.
They piggybacked on their neighbor's big display with a one-word sign saying "ditto," and an arrow pointing to the home.
Owners of the "ditto" house said the neighborhood children love the lavishly-decorated Grinch home, and they just wanted to have a good time with it too.
"The bottom line is, how can you compete with that? So my mom and I actually came out here one day and put up a "ditto" sign," said Courtney Clarke, who lives at the "ditto" home.
Clarke said the "ditto" sign is meant completely as praise for her neighbor's Christmas decorations.
"We just thought it was funny. We've seen it years and years, seen those viral emails going around about people that do this, and we decided we'd do it ourselves because we thought it would be funny."
Copyright 2011 KPTV. All rights reserved.