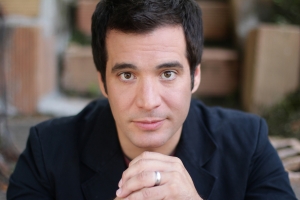 JD Roberto is best known to Reality TV fans as host of ABC's How To Get The Guy, the hit relationship show Outback Jack (TBS), Discovery Channel's Alaskan Adventure Challenge, the much talked about Are You Hot? as well as the behind-the-scenes sensation American Idol Extra and Reality Remix for the Fox Reality Channel.

JD had the honor of kicking off Season 39 of The Price is Right with Drew Carey when he was asked to spend a month as Guest Star announcer inviting audience members to "Come on down!" and be part of television history.

Game show fans also know him from the long-running game show Shop 'Til You Drop, Animal Planet's You Lie Like a Dog, the competition cooking show Food Fight on the Food Network and the scavenger hunt game show Cut To The Chase on TBS. JD has also been a regular guest host for E! News Live, as well as a guest co-host on the nationally syndicated lifestyle show Better.

JD has been a contributing writer to the Los Angeles Times, the Huffington Post, LA Parent Magazine and the Imperfect Parent website. He is also the author of the popular parenting blog The Hands On Dad (http://www.thehandsondad.com). His travel writing has been featured on Discovery Channel's award-winning World Hum website. He is the author of several screenplays including Heavy Water which was named a Top 10 finalist in the Francis Ford Coppola / American Zoetrope Screenwriting Competition.

JD has numerous film and television appearances to his credit, including Frasier, All My Children, Passions, General Hospital, The Mask of Zorro, 'Til Night, Nautilus, Family Matters, Step by Step and a recurring role on The New Adventures of Robin Hood.

His theatre credits include performances at New York's Theatre for the New City, SoHo Rep, Playwrights Horizons, The Metropolitan Opera and The Laguna Playhouse, where he played the title role in the critically-acclaimed production of Picasso at the Lapin Agile.

An avid adventure traveler, JD and his wife have spent months on end with packs strapped to their backs touring the globe. With more than65 counties to their credit, the pair has packed their way through much of the world, with stops in Western and Eastern Europe, Northern and Southern Africa, Russia, Mexico, Central America, South America, the Middle East, India, Australia, New Zealand and most of Southeast Asia.

JD holds a Bachelors of Fine Arts degree in Acting (with honors) from New York University's Tisch School of the Arts and a Master of Fine Arts in Play and Screenwriting from the University of British Columbia, Vancouver School of Film and Television.
Copyright 2011 Meredith Corporation. All rights reserved.