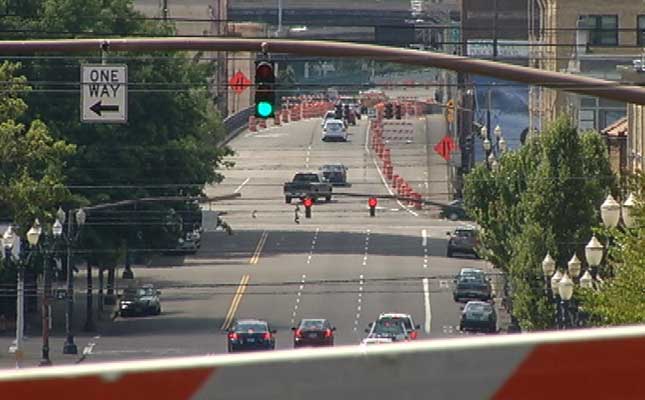 PORTLAND, OR (KPTV) -
All traffic lanes and ramps to and from the Morrison Bridge reopened Saturday evening, wrapping up a nine-month construction project.

The project replaced the open steel grating on the lift span with a solid surface deck.

County officials said the deck improves safety by providing more traction for cars. Drivers will no longer be prohibited from changing lanes on the lift spans.

Saturday's traffic changes include:

Three traffic lanes are open in both directions on the bridge
The north sidewalk on the bridge is open
Westbound access to the bridge and downtown from S .E. Morrison Street, S.E. Grand Avenue and S.E. Martin Luther King Jr. Blvd. (Oregon 99E) is restored
The S.W. Naito Parkway onramp to the bridge is open

On Tuesday, there will be a series of test bridge lifts to rebalance the drawbridge. Drivers may experience delays of up to 20 minutes during the test lift.

Copyright 2012 KPTV (Meredith Corporation.) All rights reserved.