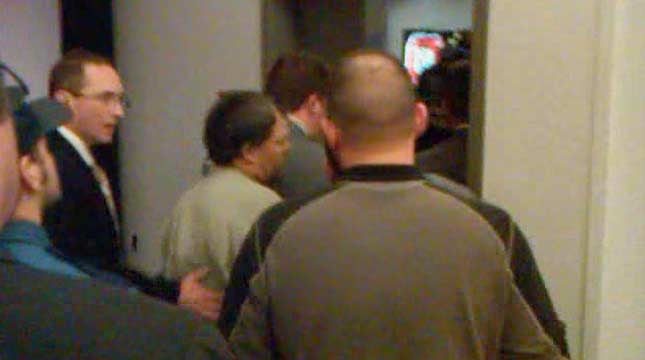 PORTLAND, OR (KPTV) -
An unruly man at a Portland Trail Blazers game rushed through a Rose Garden entrance and became physical with arena security at Sunday night's game with the Minnesota Timberwolves.

Portland police said the man walked through one of the Rose Garden entrances around 8:15 p.m. When asked if he had a ticket, he pushed by the Rose Garden ushers and made his way to the 200-level and club level seating area.

He began yelling and screaming at no one in particular, said a police bureau spokesman.

Rose Garden security confronted the man and asked him to leave, but he became physical with them and had to be restrained. Portland police officers soon arrived and detained the man.

Home video captured by a Blazers fan shows the man being escorted from the concourse by a group of Rose Garden security workers and police officers.

The man was taken to a local hospital for a psychiatric evaluation. Police cited him on charges of harassment, disorderly conduct and trespassing, but he was not taken to jail.

No Trail Blazers fans were hurt during the incident.
[Video courtesy of Steve Pierce]

Copyright 2012 KPTV (Meredith Corporation.) All rights reserved.