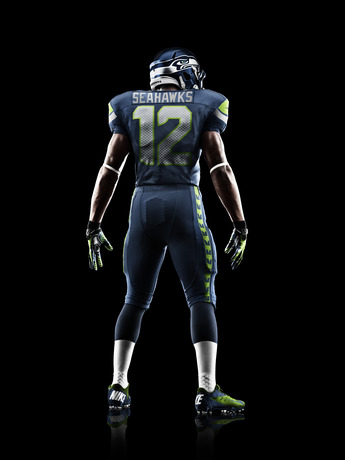 Image Courtesy: Nike
RENTON, WA (AP) -
While most NFL teams' uniforms got only subtle changes at most with the league's switch to Nike as its apparel provider, the Seattle Seahawks decided a major overhaul was in order.

The new Seahawks uniforms unveiled Tuesday featured a change to a deeper shade of dark blue, neon green highlights throughout and a third alternate uniform in a shade of gray.
SLIDESHOW: Seahawks uniform overhaul

Seattle was the one team to get a significant uniform change. Gone was the shade of blue that debuted when the Seahawks moved into their new stadium in 2002. The uniforms also incorporate graphics of Pacific Northwest coastal Indian artwork along the side of the uniform tops and pants and around the neckline.

The Seahawks logo is larger on the helmets and wraps around the back.

(Copyright 2012 by The Associated Press. All Rights Reserved.)