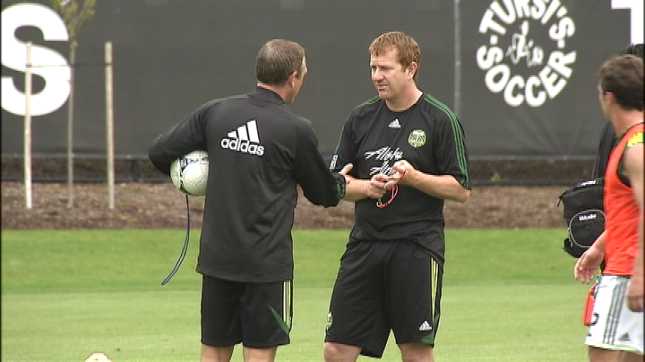 As reports of an agreement with a new coach surfaced, the Portland Timbers reserve team fell to San Jose 3-1.
PORTLAND, OR (KPTV) -
In front of a Reserve League record crowd of 14,121, the San Jose Earthquakes Reserves defeated the Portland Timbers Reserves 3-1 in MLS Reserve League play on Sunday evening at JELD-WEN Field.

Sunday's attendance at JELD-WEN Field surpassed Portland's previous record for Reserve League attendance of 10,077 fans set on Aug. 21, 2011, for a match between the Timbers Reserves and the Vancouver Whitecaps FC Reserves.

Forward Sercan Guvenisik scored a hat trick to lead the Earthquakes Reserves (3-2-2, 11pts). Two of Guvenisik's three goals came in the second half, with midfielder Sam Garza assisting on both goals. The Timbers (3-4-1, 10pts) received a first-half goal from forward Brent Richards.

San Jose struck first in the 25th minute. Guvenisik held the ball near midfield, and then fired a shot from near the halfway line and over the head of Timbers goalkeeper Jake Gleeson, who was off his line, to make the score 1-0.

The Timbers Reserves were able to tie the score at 1-1 in the 37th minute. After having several attempts at goal blocked, forward Danny Mwanga gained possession outside the left side of the box and then cross the ball in front of goal. Richards headed the ball off the underside of the crossbar for his third MLS Reserve League goal.

Guvenisik, the Earthquakes Reserves' leading scorer, scored his second goal shortly after halftime in the 50th minute. Garza found a wide-open Guvenisik, who had slipped between two Portland defenders into the box, and Guvenisik slotted one home in the lower right side of the goal to lift San Jose to a 2-1 lead.

While the Timbers Reserves continued to push for an equalizing goal, Garza once again set up Guvenisik for an open look on goal in the 89th minute. Garza lobbed a long ball forward which dropped in behind the Timbers Reserves backline and sprung Guvenisik on goal. In another one-on-one against Gleeson, Guvenisik powered in his third goal of the night and his fifth in MLS Reserve League play to seal the 3-1 victory for San Jose.

The Timbers Reserves' next match in MLS Reserve League play is Monday, Sept. 10 against the LA Galaxy Reserves; kickoff is set for 11 a.m. (Pacific). The Earthquakes Reserves also take on the LA Galaxy Reserves in their next match on Tuesday, Sept. 4, at 11 a.m. (Pacific).

Copyright 2012 KPTV (Meredith Corporation.) All rights reserved.