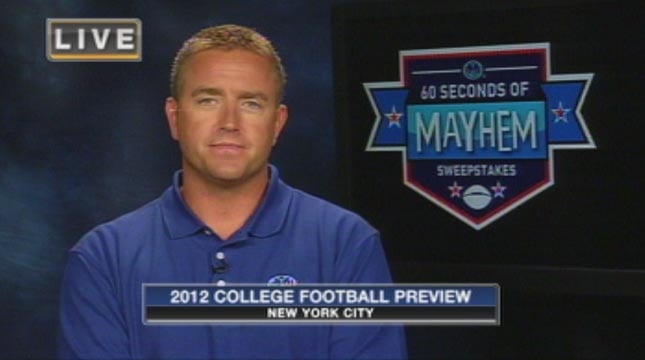 BEAVERTON, OR (KPTV) -
ESPN college football analyst Kirk Herbstreit sounded off on the Oregon Ducks and Oregon State Beavers football programs Monday morning on Good Day Oregon, and added some hype to an already ballyhooed USC-Oregon showdown that is still more than two months away.

Herbstreit said he considers Oregon, winners of last year's Rose Bowl, a "top-five program, year in and year out."

"I think the nation still thinks about USC, but I think Oregon the last four or five years has really made great strides," he said.

The Ducks and the Trojans are considered heavy favorites in the Pac-12 Conference. The preseason Associated Press Top 25 has USC No. 1 and Oregon No. 5, and the two teams will meet Saturday, Nov. 3 in a game televised on FOX 12.

"Can you beat USC? That's what this year will come down to," he said. "If they do that, then they'll have a shot at the national title. If not, then they won't."

While the Ducks remain in national title contention, the Oregon State Beavers are looking to recover after a season of struggles. Herbstreit said it's "a bounce back year for the Beavers."

"Mike Riley is a great coach. He will not stay down long. I always look at Oregon State in a way, when people forget about them, that's when they're most dangerous."

The Beavers open the season Sept. 1 against Nicholls State. They host Wisconsin the following week.

Copyright 2012 KPTV (Meredith Corporation.) All rights reserved.