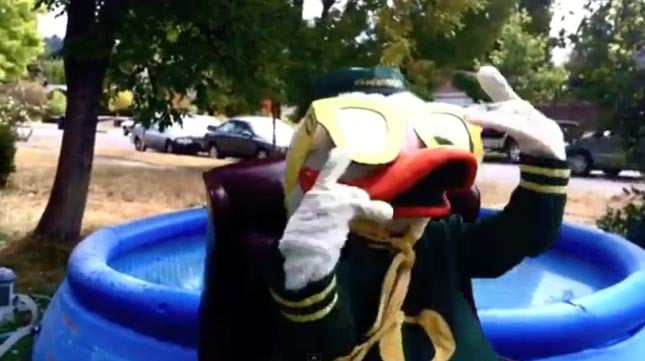 EUGENE, OR (KPTV) -
If you're not already hyped for the start of college football season, the Oregon Ducks' mascot is here to help - with South Korean pop music?

The Duck is sharing his own version of the music video "Gangnam Style" by Psy, a South Korean rapper.

In the YouTube video, The Duck gets Gangnam Style at spots all over the University of Oregon campus, belly flops into a kiddie pool, smashes a watermelon and bullies Stanford University's mascot.

The Gangnam Style song has inspired parodies and homemade videos from all over the world. The original Gangnam Style video has more than 75 million hits on YouTube.
The Duck announced his video in a tweet, saying "So...I got bored the other day and made a thingy."

Copyright 2012 KPTV (Meredith Corporation.) All rights reserved.