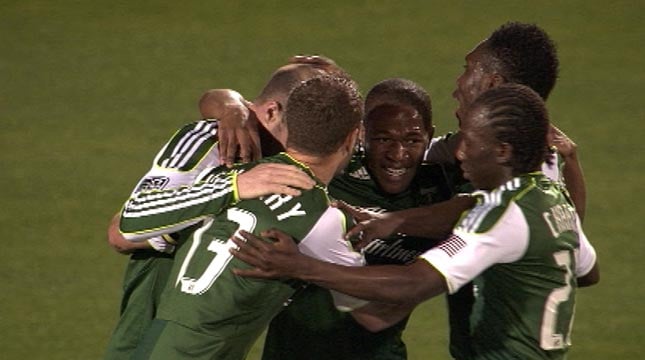 Darlington Nagbe / KPTV
Kris Boyd / KPTV
PORTLAND, OR (KPTV) -
Portland Timbers forward Darlington Nagbe ranks No. 11 in Major League Soccer's Top 25 selling jerseys this year, the team says.

Nagbe, the Timbers' top draft choice ahead of their inaugural season in 2011, is in his second year in Portland. He has scored six goals in 2012.
His most well-known feat as an MLS player is his goal against Sporting KC in 2011, which earned him the MLS 2011 Goal of the Year award.
The only other Timbers player in the Top 25 is Scottish forward Kris Boyd, who leads the team in scoring with seven goals, but has struggled to keep his spot in the Timbers' starting lineup.
The Top 25 list includes sales from March 10 through Sept. 10 and reflects the top-selling jerseys on MLSgear.com, MLSgearCanada.ca and MLS club websites.

1. David Beckham - LA Galaxy
2. Thierry Henry - New York Red Bulls
3. Landon Donovan - LA Galaxy
4. Fredy Montero - Seattle Sounders FC
5. Dwayne De Rosario - D.C. United
6. Chris Wondolowski - San Jose Earthquakes
7. Tim Cahill - New York Red Bulls
8. Robbie Keane - LA Galaxy
9. Mauro Rosales - Seattle Sounders FC
10. Brian Ching - Houston Dynamo
11. Darlington Nagbe - Portland Timbers
12. Chris Pontius - D.C. United
13. Osvaldo Alonso - Seattle Sounders FC
14. Young-Pyo Lee - Vancouver Whitecaps FC
15. Kris Boyd - Portland Timbers
16. Barry Robson - Vancouver Whitecaps FC
17. Eddie Gaven - Columbus Crew
18. Brad Davis - Houston Dynamo
19. Roger Torres - Philadelphia Union
20. Freddy Adu - Philadelphia Union
21. Kei Kamara - Sporting Kansas City
22. Kyle Beckerman - Real Salt Lake
23. Mike Magee - LA Galaxy
24. Saer Sene - New England Revolution
25. Arne Friedrich - Chicago Fire
Copyright 2012 KPTV (Meredith Corporation.) All rights reserved.