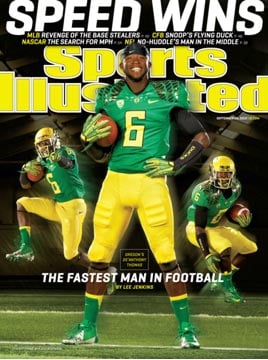 EUGENE, OR (KPTV) -
If you happen to be an Oregon Ducks fan and a Sports Illustrated cover jinx believer, the latest issue brings some bad news.

This week's Sports Illustrated cover declares "SPEED WINS" and calls Ducks running back De'Anthony Thomas "The Fastest Man In Football." The Ducks' touchdown machine is featured in three poses on the cover.

Thomas leads the nation with seven plays of 30 or more yards and he's tied for the national lead with seven touchdowns. For his Oregon Ducks career, he's averaging one touchdown every 5.2 times he touches the ball.

It's not the first time the Ducks have been on the cover of the most recognized sports magazine in the country. And unfortunately, there's some bad history:
- The Dec. 13, 2010 cover showed Ducks running back LaMichael James ahead of its national title game against Auburn. The Ducks lost that one. James also shared the cover in November 2010 with two other players for a story about a playoff system in college football.
- In 2009, a preseason cover showed quarterback Jeremiah Masoli and center Jordan Holmes, but then the Ducks were humbled by Boise State in their opening game and running back LeGarrette Blount punched a Boise State lineman in the face.
- Back in 2003, Sports Illustrated's cover headline screamed "Dazzling Ducks" after Oregon beat Michigan. But then the Ducks were blown away 55-16 by Washington State a few days later.
The Ducks hope to avoid the cover jinx Saturday when they host No. 22 Arizona at Autzen Stadium in Eugene. The game will be televised on ESPN and kicks off at 7:30 p.m.

Copyright 2012 KPTV (Meredith Corporation.) All rights reserved.