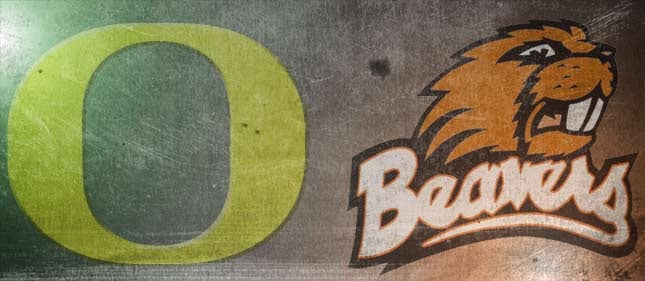 CORVALLIS, OR (AP) -
Saturday's game between Washington State and Oregon State could look a lot like the old pass-happy Pac-10.

On one side there are the Cougars with new coach Mike Leach's trademark Air Raid attack. On the other are the No. 14 Beavers with sophomore quarterback Sean Mannion, who is throwing with confidence after a trying debut last season.

Mannion was named the Pac-12 player of the week after passing for a career-high 433 yards and three touchdowns, including the game-winner to Connor Hamlett with 1:17 left, in Oregon State's 38-35 victory at Arizona last weekend.

The week before Mannion threw for 379 yards -- his previous career high -- against UCLA.
Kelly, Sark play down Oregon-Washington rivalry

Oregon coach Chip Kelly seized on SpongeBob SquarePants when describing how the No. 2 Ducks feel about the past rivalry with the Washington Huskies.

He says most of the acrimony between the two teams occurred more than a decade ago, when most of his players were more into cartoons than they were into Joey Harrington. The Ducks are too busy with the day-to-day than to bother with a history lesson.

While the No. 2 Ducks (5-0, 2-0 Pac-12) themselves may not buy into the hype over the rivalry, there's still a lot of back-and-forth razzing between fans in the neighboring Pacific Northwest states. The No. 23 Huskies (3-1, 1-1) travel south to visit the Ducks on Saturday night at Autzen Stadium.
Copyright 2012 The Associated Press. All rights reserved.