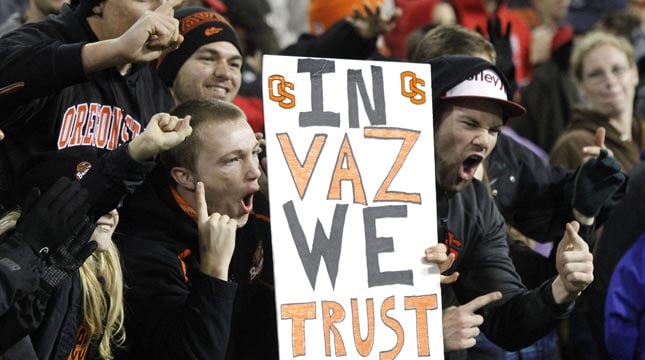 AP Photo
CORVALLIS, OR (AP) -
Oregon State coach Mike Riley was faced with a delicate decision after the Beavers' first loss of the season last weekend -- whether to start Cody Vaz or Sean Mannion at quarterback against Arizona State on Saturday night.

Mannion was the team's starter at the beginning of the season, leading the Beavers to wins in their first four games and averaging 339 yards in passing. But the 6-foot-5 sophomore hurt his left knee and required surgery. Vaz, a junior who hadn't started since he'd been in Corvallis, took over and led the Beavers to two straight wins.

Then came Washington. Mannion returned as starter but threw four picks before he was replaced by Vaz, who fell just short of pulling off a Beavers comeback in a 20-17 loss last Saturday.

Copyright 2012 The Associated Press. All rights reserved.