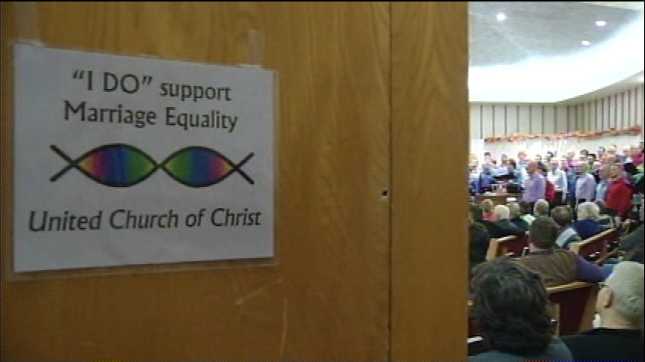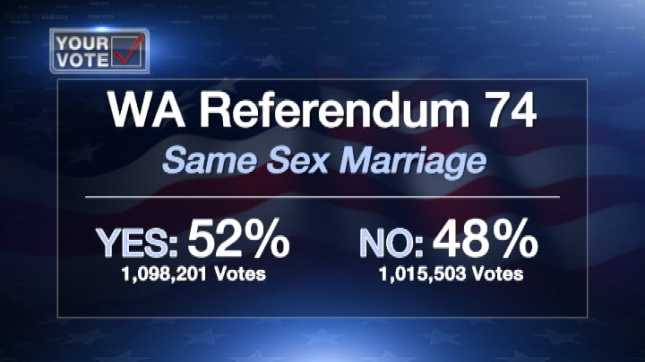 VANCOUVER, WA (KPTV) -
A day after Washington voters approved same-sex marriage in their state, passing Referendum 74, activists say they hope a similar measure will pass in Oregon in 2014.

On Wednesday night, hundreds gathered at the First Congregational Church of Christ in Vancouver for a freedom to marry event hosted by the Portland Gay Men's Chorus.

Organizers said the concert, which also featured several speakers, was the third such event hosted by the choir in support of the same-sex marriage law in Washington.

The event was billed as an "evening of hope" that the marriage equality law would be approved by voters, but that cautious optimism took a celebratory tone before the event even started once the fate of the referendum became known.

"My partner and I have considered going to Canada to be married," said chorus member Johnathan Rogers. "Now that marriage is legal in Washington, we'll be looking forward to doing that here."

"We've definitely been talking about it, and this is really exciting now to have an opportunity to do so legally," said Rogers' partner Dustin Rapp, a fellow chorus member.

Several Oregon groups had a stake in the Washington vote, including Basic Rights Oregon. Leaders said they hoped to have a similar measure before Oregon voters in 2014.

Washington's Referendum 74 asked Washingtonians to approve or reject a state law legalizing same-sex marriage that lawmakers passed earlier this year. That law was signed by Gov. Chris Gregoire, but has been on hold pending the election's outcome.

The referendum had its strongest lead in the state's largest county, King, where it was winning 65 percent of the vote. King County is home to Seattle and holds about a third of the state's voters.
Similar victories for same-sex marriage were won in Maine, Maryland and Minnesota.
Copyright 2012 KPTV (Meredith Corporation). All rights reserved.