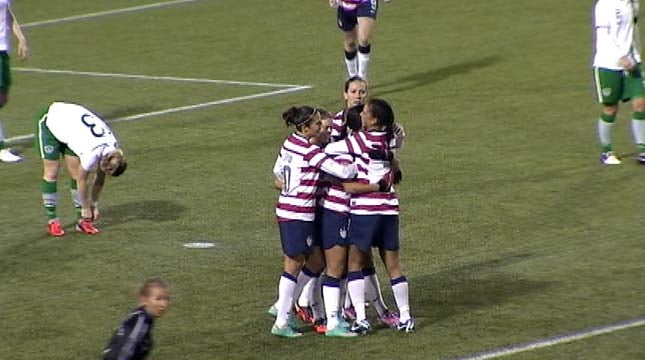 PORTLAND, OR (AP) -
Alex Morgan scored three first-half goals and the Olympic gold medal-winning U.S. women's national team beat Ireland 5-0 on Wednesday night, the latest match in an exhibition tour for fans following the London Games.

Sydney Leroux added two goals to help the top-ranked United States improve to 4-0-2 on its Fan Tribute Tour.

Morgan struck first in the 24th minute. It was her 25th goal this year, making her the third U.S. player to reach the mark in a season -- Abby Wambach had 31 in 2004 and Michelle Akers had 39 in 1991. Leroux has a reserve-record 12 goals this season.

Hope Solo started in goal for the U.S. while her personal life was again grabbing headlines. Earlier Wednesday, husband Jerremy Stevens was taken into custody in Hillsborough County, Fla., for an alleged parole violation.

Copyright 2012 The Associated Press. All rights reserved.