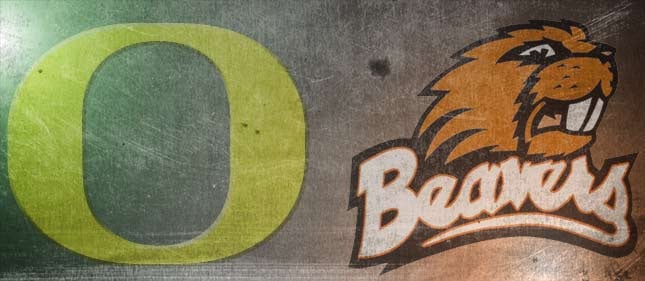 SCOTTSDALE, AZ (KPTV/AP) -
Oregon and Oregon State have their bowl opponents, and tickets are on sale for both games now.

The Ducks will meet Kansas State in a marquee matchup at the Fiesta Bowl.

Still in the BCS championship chase just two weeks ago, the fifth-ranked Ducks and seventh-ranked Wildcats will play in the Jan. 3 game at University of Phoenix Stadium in Glendale.

Here are three ways to get tickets:

- Do you want to be surrounded by Ducks fans at the game? Then purchase tickets through the University of Oregon ticket office. Ducks season ticket holders have until 5 p.m. Monday to retain priority status to purchase tickets to the game. At 7 p.m. Monday, remaining tickets will go on sale to the general public, and will range from $144 to $268 each.

- Tickets are also available immediately at fiestabowl.org.

- Fans can also purchase tickets on stubhub.com, where as of Monday morning, the cheapest tickets available were $102 each.
- Go to azumano.com/ducks to purchase a Ducks travel package through Azumano Travel.
Oregon State draws Texas in the Alamo Bowl
For Texas Longhorns fans, it will be a short trip. For Oregon State, it's a chance to beat a perennial football powerhouse.

The Beavers will play in a bowl game for the first time in three years when they face Texas in the Alamo Bowl on Dec. 29.

Oregon State coach Mike Riley says it will also be a bit of a homecoming for Beavers running back Storm Woods, who is from nearby Pflugerville.

Here are four ways to get tickets:

- To sit with Beavers fans at the game, go to beavertickets.com. The general public may begin requesting tickets through OSU starting Wednesday.

- Visit alamobowl.com to purchase tickets. Tickets range from $45 to $300.

- Visit stubhub.com, where tickets start at $59.
- Go to azumano.com/beavers to purchase a Beavers travel package through Azumano Travel.


Copyright 2012 KPTV (Meredith Corporation.) All rights reserved. The Associated Press contributed to this report.