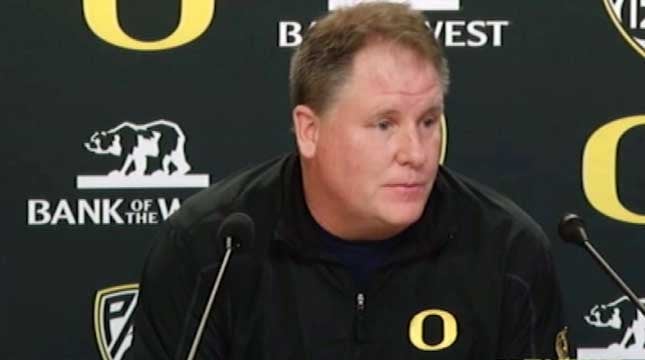 EUGENE, OR (KPTV) -
The NCAA investigation into the Oregon Ducks football program may be headed for an infractions committee hearing, according to a report from Yahoo! Sports.
Citing sources with knowledge of the discussions, Yahoo! reported the University of Oregon's attempt to avoid such a hearing failed because the NCAA disagreed with "various aspects" of the infractions believed to have occurred and the penalties the school considered appropriate.
Though Oregon is now expected to take part in a hearing sometime between February and August of 2013, the school opted not to comment on the Yahoo! report.

"The review is ongoing until the NCAA Committee on Infractions issues its final report," an athletic department statement said. "The integrity of the process and our continued full cooperation with the NCAA prohibits us from publicly discussing the specifics of this matter."
Oregon is under investigation for allegations it paid Houston-based Willie Lyles $25,000. Lyles once told Yahoo! Sports the money was for influencing coveted high school players to attend Oregon.

READ: Documents released by University of Oregon in Feb. 2012 (PDF)
RELATED: Athletic director's letter to supporters in Feb. 2012
Copyright 2012 KPTV (Meredith Corporation.) All rights reserved.