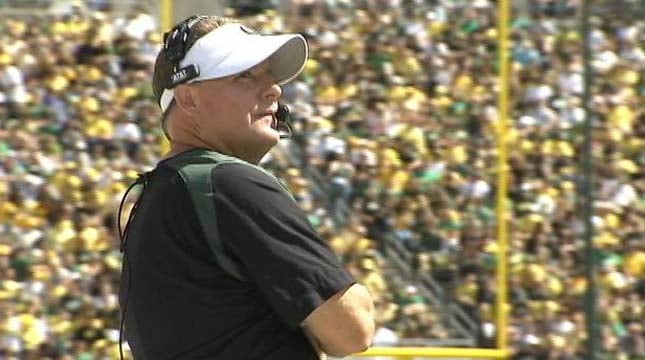 EUGENE, OR (KPTV/AP) -
The head football coach of the Oregon Ducks is getting plenty of press this week, but much of it has nothing to do with his team's BCS bowl game.
Instead, Chip Kelly is being linked to any one of the seven head coaching openings in the NFL.
Seven coaches and five general managers were fired Monday, one day after the NFL's regular season came to an end.
Kelly is listed as one of the headliners among NFL coaching candidates at NFL.com. An article on the site said two high-ranking personnel executives say Kelly is Cleveland's top choice to coach the Browns.
The Philadelphia Eagles are also expected to go after Kelly, according to sources.
Kelly is not commenting on any of it. The Ducks face Kansas State in the Fiesta Bowl on Thursday.
''I've got a game to play,'' Kelly said during the Fiesta Bowl's media day on Monday. ''We're playing in the Fiesta Bowl. That's the biggest thing in my life. If I allowed other things to get into my life, then they would be distractions, but there aren't. Our focus 100 percent is on the Fiesta Bowl.''
Arizona, Buffalo, Chicago, San Diego and Kansas City also are without coaches and could come calling on Kelly as well.
Copyright 2013 KPTV (Meredith Corporation). All rights reserved. The Associated Press contributed to this report.