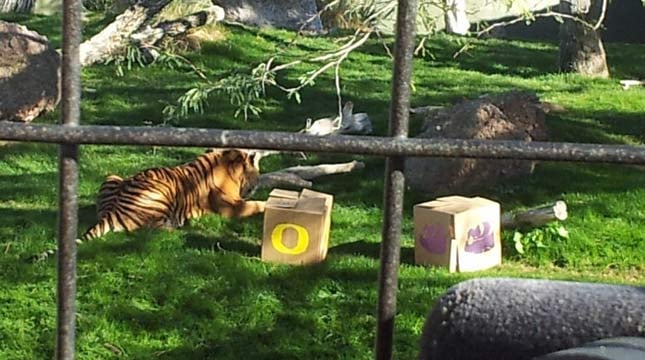 PHOENIX, AZ (KPTV) -
A Sumatran tiger is apparently a fan of the Oregon Ducks.

A tiger named Hadiah at the Phoenix Zoo picked the Ducks to win Thursday's Fiesta Bowl. Well, he actually picked a box full of treats with the University of Oregon's logo on it.
Zoo workers set out two boxes, each representing a team playing in the Fiesta Bowl Thursday in Arizona. The boxes were filled with identical treats.
The tiger then made its choice. Hadiah passed the box for the Kansas State Wildcats and instead went right for the box marked with a big yellow "O," touching it first and making the Ducks the tiger's pick.

However, Hadiah then turned around quickly and devoured the food inside the Kansas State box.
Of course, it's worth noting the same tiger participating in the same event went with the Ducks in the 2011 BCS Championship Game, which was also played in Arizona.
The Ducks lost that game to the Auburn Tigers, 22 to 19.
Copyright 2013 KPTV (Meredith Corporation). All rights reserved.