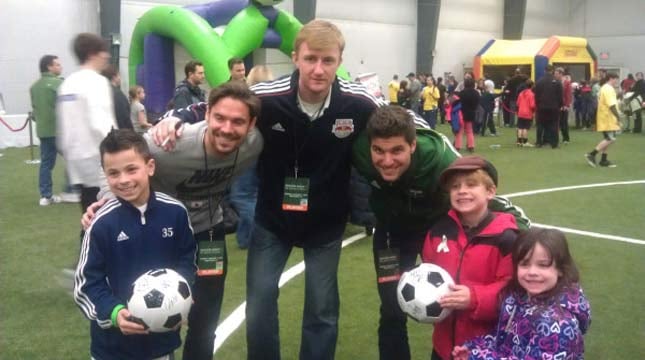 Photo: Sal Zizzo on Twitter, @SalZizzo
NEWTOWN, CT (KPTV) -
A Portland Timbers player kicked the ball around with some kids who have faced tragedy in their community.
Midfielder Sal Zizzo traveled to Newtown, CT, with more than two dozen other professional soccer players for "Soccer Night in Newtown."
Monday night's event was only open to Newtown residents and members of the Newtown Youth Soccer Club.
Children got to meet MLS and U.S. national team stars and play in small-sided games with them.
The goal was to give the families a memorable afternoon full of soccer to try and help take their minds off of the tragic school shooting.
International soccer stars like Cobi Jones, Alexi Lalas and Mia Hamm were there, as was Marcus Tracy of the San Jose Earthquakes.
Tracy grew up in Newtown and his mother once taught at Sandy Hook Elementary School.
Zizzo sent out a message on Twitter from the event saying: "Amazing event here in Newtown, just finished up, glad to help and put smiles on everyone's faces #SoccerNightinNewtown."
Copyright 2013 KPTV-KPDX Broadcasting Corporation. All rights reserved.