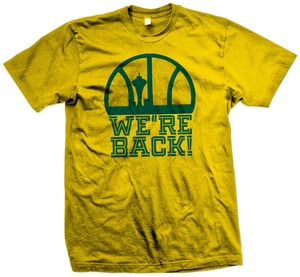 OLYMPIA, WA (AP) -
Rumors that an NBA team may soon return to Seattle are good news for an Olympia company that prints T-Shirts.

Media Fly Creative has printed about 1,500 Sonics T-shirts saying "We're Back!"

Owners Ian Bolyard and Dave Vahey told The Olympian they consulted an attorney so the logo is not a copy of the trademark owned by Clay Bennett, who moved the Sonics to Oklahoma City in 2008.

The owners of the Sacramento Kings, the Maloof family, have a signed agreement to sell the franchise to a group that intends to move the team to Seattle and restore the SuperSonics name.
The NBA Board of Governors must approve any sale.

Copyright 2013 The Associated Press. All rights reserved.