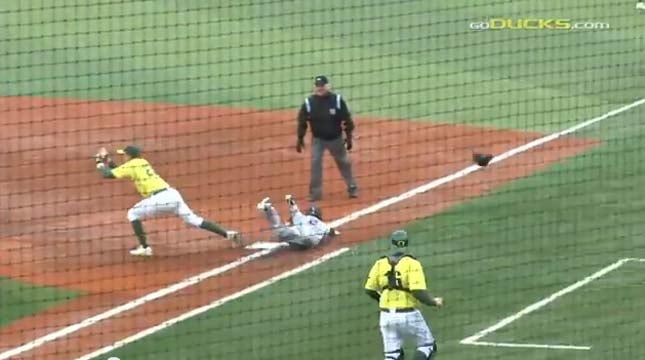 EUGENE, OR (KPTV) -
A University of Oregon pitcher had to improvise when the baseball became wedged in the webbing of his glove this week.
The Ducks were in the second game of a two-game series against Cal State Northridge.
Northridge's Ryan Raslowsky hit a ball straight at Oregon pitcher Jeff Gold, who snagged the ball in his mitt, but was unable to dislodge it.
In a race against the runner, Gold threw his entire glove -- with the ball coming loose on the way -- to first baseman Ryon Healy.
Healy caught the ball and made the play for the out. Now if only he had caught the glove, too.
YOUTUBE: Ducks player throws glove to first base (http://www.youtube.com/watch?v=48ZGp07K_Bo)
Copyright 2013 KPTV-KPDX Broadcasting Corporation. All rights reserved.