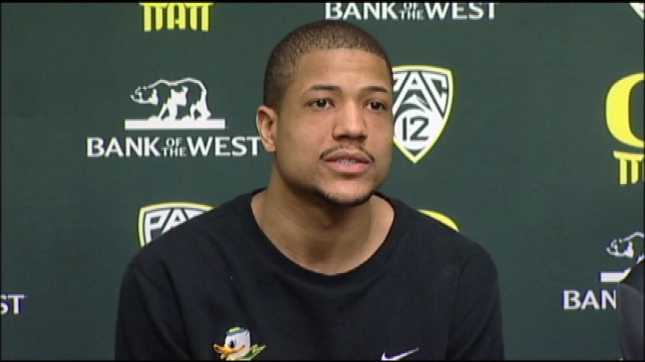 Oregon center Tony Woods
EUGENE, OR (KPTV/AP) -
A championship run in the Pac-12 tournament didn't seem to impress the NCAA Tournament Selection Committee.
A day after defeating UCLA in the Pac-12 final, the Oregon Ducks were given a No. 12 seed in the NCAA tournament. They'll face Big 12 Player of the Year Marcus Smart and Oklahoma State on Thursday.

The Cowboys (24-8) are back in the NCAAs for the first time in three years after finishing third in the Big 12, getting a No. 5 seed.
They'll face Oregon (26-8) at HP Pavilion in San Jose, Calif. It will be just the second meeting ever between the teams, who last met in 1987.
Oklahoma State has improved dramatically after finishing last season with a losing record.
Oregon tied for second in the Pac-12 in the regular season after going to the NIT last season.
Copyright 2013 KPTV-KPDX Broadcasting Corporation. All rights reserved. The Associated Press contributed to this report.