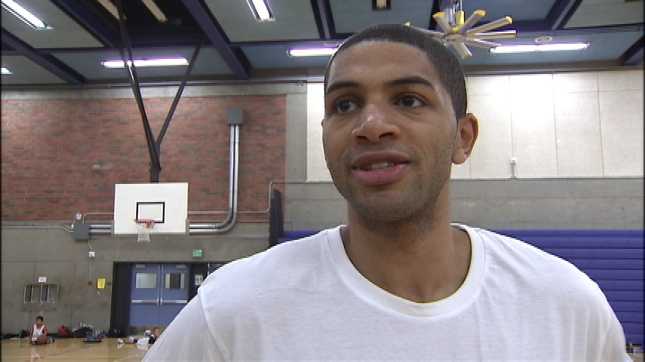 PORTLAND, OR (KPTV) -
The Portland Trail Blazers are taking a break from the rigors of an 82-game NBA schedule to hit the hardwood for a good cause this week.
They're hosting their fifth annual Spring Break Hoops Camp at PCC Sylvania. More than 60 children are taking part in the camp.
Blazers forward Nicolas Batum and guards Will Barton and Nolan Smith shared some of their basketball tips, helped run drills and coached games.
For Blazers star Batum, there's an underlying message behind the camp.

"Have fun. That's one thing about basketball is try having fun on the court and that's what they do," Batum said. "They just smile everywhere. THey just play with each other passing the ball."
The kids will get to see Batum, Smith and Barton in an upcoming game - each camper receives two tickets to a Trail Blazers game.
Copyright 2013 KPTV-KPDX Broadcasting Corporation. All rights reserved.