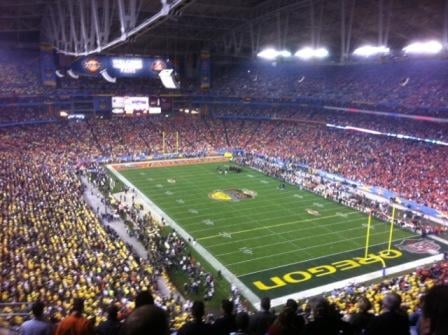 EUGENE, OR (KPTV) -
Auburn's football program may be in hot water after an online report alleged bribes and grade changing during the year it beat Oregon in the national championship game.

A report by former New York Times and Sports Illustrated investigative reporter Selena Roberts said former Auburn players confirmed to her that some players were paid "thousands of dollars" to keep them on the team and stop them from going to the NFL.

Roberts also reported she uncovered evidence that as many as nine players had their grades changed to make sure they were eligible to play against Oregon in the 2011 BCS National Championship Game, which Auburn won.

Roberts released the report on her website roopstigo.com Wednesday.

It also alleges current Florida head coach Will Muschamp, who was previously the defensive coordinator at Auburn, gave $400 to a player.

Muschamp has denied the allegation. Two Auburn players also already claim Roberts misquoted them, and the school has not commented on the report.
LINK: Victims, Violations and Vendettas for Glory

Copyright 2013 KPTV-KPDX Broadcasting Corporation. All rights reserved.