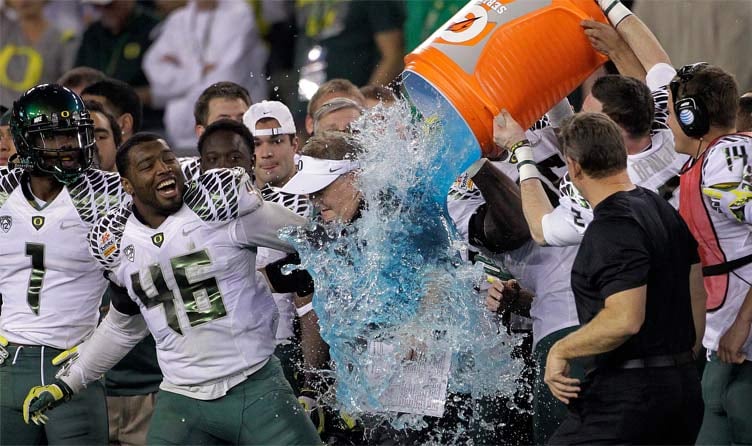 Oregon head coach Chip Kelly gets soaked by his players during the final seconds of the Fiesta Bowl. (AP Photo/Matt York)
EUGENE, OR (KPTV/AP) -
The University of Oregon proposed a self-imposed two-year probation and the loss of a scholarship for three years because of possible recruiting violations involving the Ducks' football program.

The university released documents late Monday that included a proposed summary disposition from September which discusses the violations and characterizes at least one as "major."
The Oregonian newspaper reports the next step will be for Oregon football officials to appear in front of a NCAA committee.

The NCAA began looking into possible violations following reports about payments Oregon made to recruiting services, including a $25,000 payment to Willie Lyles and Houston-based Complete Scouting Services in 2010.
Lyles had a connection with an Oregon recruit.
Former University of Oregon head coach Chip Kelly, now coach of the NFL's Philadelphia Eagles, issued a statement Tuesday.

"I am aware of the recent reports and of the ongoing investigation being conducted by the NCAA and the University of Oregon," Kelly's statement said. "While at Oregon, I know we were fully cooperative with all aspects of the investigation and I will continue to contribute in any way that I can. But until the NCAA rules on the matter, I will have no further comment."
The case is expected to go before the infractions committee this year.
Copyright 2013 KPTV-KPDX Broadcasting Corporation. All rights reserved. The Associated Press contributed to this report.