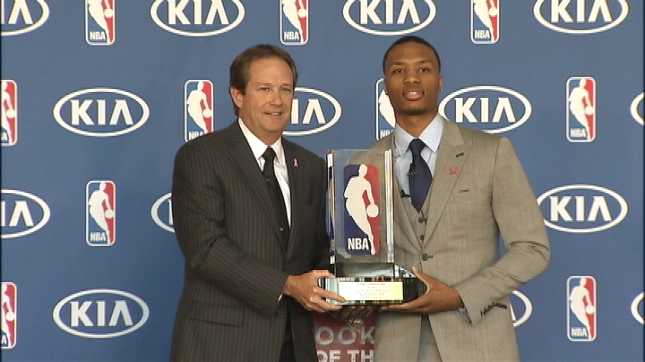 PORTLAND, OR (KPTV) -
Portland Trail Blazers guard Damian Lillard has been named to the 2013 USA Basketball Men's National Team mini-camp roster.
The mini-camp includes 27 NBA players and will take place July 22-25 in Las Vegas.
USA Basketball National Team Head Coach Mike Krzyzewski will direct the mini-camp, with Jim Boeheim, Tom Thibodeau and Monty Williams serving as assistant coaches.
Lillard is the fourth unanimous Rookie of the Year in NBA history. He set an NBA record for 3-pointers made in a rookie season (185). The sixth overall pick in the 2012 NBA Draft out of Weber State, Lillard joined Stephen Curry, LeBron James and Russell Westbrook as the only NBA players with at least 1,500 points and 500 assists last season.
"I'm honored to have been invited to participate in the USA Basketball mini-camp," said Lillard in a statement from the Blazers. "It's always been a dream of mine to represent our country, and I'm greatly appreciative of the opportunity."
Here's the full list of players set to attend the minicamp:

Ryan Anderson (New Orleans Pelicans); Harrison Barnes (Golden State Warriors); Bradley Beal (Washington Wizards); Mike Conley (Memphis Grizzlies/Ohio State); DeMarcus Cousins (Sacramento Kings); Anthony Davis (New Orleans Pelicans); DeMar DeRozan (Toronto Raptors); Andre Drummond (Detroit Pistons); Kenneth Faried (Denver Nuggets); Derrick Favors (Utah Jazz); Paul George (Indiana Pacers); Taj Gibson (Chicago Bulls); Gordon Hayward (Utah Jazz); Jrue Holiday (Philadelphia 76ers); Kyrie Irving (Cleveland Cavaliers); DeAndre Jordan (Los Angeles Clippers); Ty Lawson (Denver Nuggets); Kawhi Leonard (San Antonio Spurs); Damian Lillard (Portland Trail Blazers); Greg Monroe (Detroit Pistons); Chandler Parsons (Houston Rockets); Larry Sanders (Milwaukee Bucks); Klay Thompson (Golden State Warriors); Dion Waiters (Cleveland Cavaliers); Kemba Walker (Charlotte Bobcats); John Wall (Washington Wizards); and Tyler Zeller (Cleveland Cavaliers).
Copyright 2013 KPTV-KPDX Broadcasting Corporation. All rights reserved.