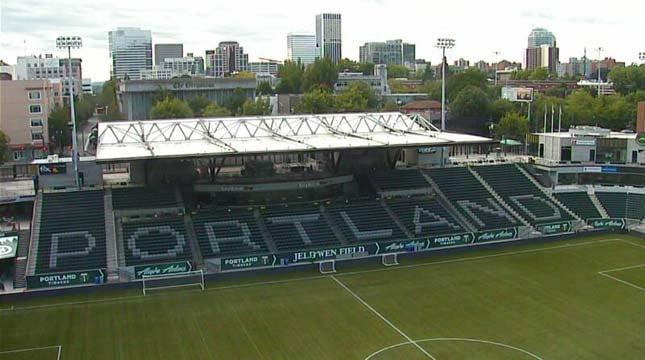 PORTLAND, OR (KPTV) -
Portland will host the 2014 MLS All-Star Game, it was announced Wednesday.
Major League Soccer's top players will team up to face a major international club in the summer event at JELD-WEN Field. In recent years, Manchester United (2010-11), Chelsea (2006, 2012) and Chivas de Guadalajara (2003) have played against the MLS All-Star Team.
Portland joined MLS as an expansion team in 2011. since then, MLS Commissioner Don Garber said Portland has overdelivered in its three seasons, and said the city is one of the "greatest examples" of sports expansion team success in history.
"The entire soccer community looks at it," Garber said.
Garber said Portland's success as an MLS city earned it the honor of hosting the all-star game.
A date for the match hasn't been finalized.
Timbers owner Merritt Paulson said it will be the first major all-star game of any sport to ever be in Portland.
MLS ALL-STAR GAMES
1996: East 3, West 2 (E. Rutherford, N.J.)
1997: East 5, West 4 (E. Rutherford, N.J.)
1998: MLS USA 6, MLS World 1 (Orlando, Fla.)
1999: West 6, East 4 (San Diego, Calif.)
2000: East 9, West 4 (Columbus, Ohio)
2001: East 6, West 6 (San Jose, Calif.)
2002: MLS 3, U.S. National Team 2 (Washington, D.C.)
2003: MLS 3, CD Guadalajara 1 (Carson, Calif.)
2004: East 3, West 2 (Washington, D.C.)
2005: MLS 4, Fulham FC 1 (Columbus, Ohio)
2006: MLS 1, Chelsea FC 0 (Bridgeview, Ill.)
2007: MLS 2, Celtic FC 0 (Commerce City, Colo.)
2008: MLS 3, West Ham United FC 2 (Toronto, Ont., Canada)
2009: MLS 1, Everton FC 1 (Everton 4-3 pen) (Sandy, Utah)
2010: Manchester United FC 5, MLS 2 (Houston, Texas)
2011: Manchester United FC 4, MLS 0 (Harrison, N.J.)
2012: MLS 3, Chelsea FC 2 (Chester, Pa.)
2013: MLS vs. AS Roma (Kansas City, Kan.) – July 31, 6 p.m. (ESPN2)

2014: MLS vs. TBD (Portland, Ore.)
Copyright 2013 KPTV-KPDX Broadcasting Corporation. All rights reserved.