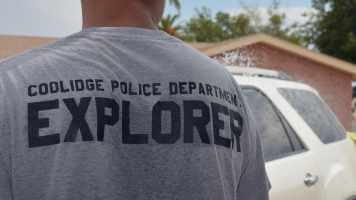 COOLIDGE, AZ (CBS5) -
The community of Coolidge is paying it forward to a group of teens who helped the families of the 19 fallen firefighters killed in the Yarnell Hill Fire.
The Coolidge Police Department Explorers, a group of young people who have an interest in law enforcement or other forms of community service, planned a car wash to raise funds for a trip to Disneyland, but when they learned of the devastation in Yarnell, their perspective changed.
"It's hard losing a family member. It's devastating," Brandon Martinez said.
Martinez just lost his mother and he couldn't help but identify with the families left broken by the fire, so he and the rest of his Explorer post decided to donate all of the money raised to the victims' families in Prescott.
When news of their generosity spread through town, Coolidge opened its pockets, helping the civic-minded teens raise more than $6,000.
"They have compassion, they have a sense of community and they just thought outside of themselves," Chris Capps said.
Capps nominated the Explorers for pay it forward and presented them with a check for $500.
Copyright 2013 CBS 5 (KPHO Broadcasting Corporation). All rights reserved.