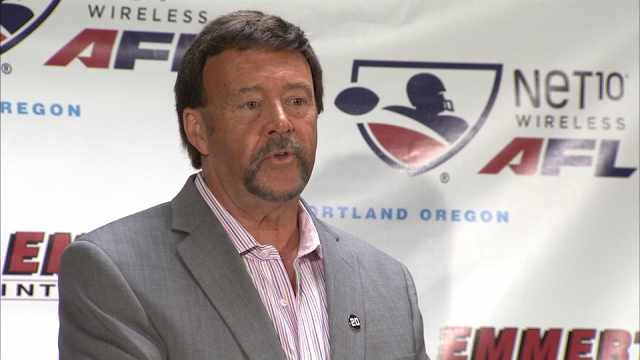 PORTLAND, OR (KPTV) -
Portland-area businessman Terry Emmert joined others in announcing a new Arena Football League team Wednesday.
The team will begin play at The Moda Center in Portland, in the spring of 2014. It will mark Arena Football League's second attempt in Portland after the Forest Dragons skipped town in 1999.
This time, the team is owned by Emmert, who owns Clackamas-based Emmert International, a company that specializes in ultra-heavy duty transit. Alluding to the Oregon Ducks and Oregon State Beavers, Emmert said sports fans in Oregon are used to seeing a "high-energy, fast-paced brand of football."
"The Arena Football League delivers that kind of excitement in a unique and affordable family setting," he said.
Portland will play nine home games at The Moda Center, starting in March. Season tickets start at $99.
Arena Football pits two eight-man teams against each other on a 50-yard indoor field. When a ball is thrown into the crowd, the fan gets to keep it.
Though Portland's AFL team does not have a name yet, it already has a Twitter account, a Facebook page and a website.
Copyright 2013 KPTV-KPDX Broadcasting Corporation. All rights reserved.