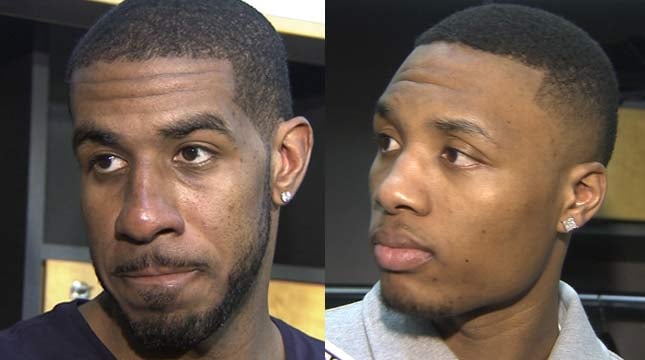 PORTLAND, OR (KPTV) -
Forward LaMarcus Aldridge and guard Damian Lillard could become the first Portland Trail Blazers to play for Team USA in the Olympics since Clyde Drexler after the dynamic duo were named to the U.S. National Team's player pool for 2014 to 2016.
Aldridge and Lillard still have to make the team, but they could be selected for the 2014 Basketball World Cup, which is being held in Spain this summer. They also could be picked for the 2016 Summer Olympics in Brazil.
Aldridge is averaging 24.2 points and 11.6 rebounds for the Trail Blazers this season.
"I'm truly honored to be selected to the U.S. Men's National Team," said Aldridge. "I'm looking forward to the challenge of making the team and grateful for the opportunity to represent my country."
Lillard, meanwhile, is the reigning NBA Rookie of the Year. He's averaging 21.2 points per game and 5.8 assists per game this season.
Here's the rest of the Team USA Player Pool:

Carmelo Anthony (New York Knicks); LeBron James (Miami Heat); Chris Paul (Los Angeles Clippers); Deron Williams (Brooklyn Nets); Tyson Chandler (New York Knicks); Anthony Davis (Brooklyn Nets); Kevin Durant (Oklahoma City Thunder); James Harden (Houston Rockets); Andre Iguodala (Golden State Warriors); Kevin Love (Minnesota Timberwolves); Russell Westbrook (Oklahoma City THunder); Dwight Howard (Houston Rockets); Blake Griffin (Los Angeles Clippers); Stephen Curry (Golden State Warriors); Derrick Rose (Chicago Bulls); Bradley Beal (Washington Wizards); DeMarcus Cousins (Sacramento Kings); Andre Drummond (Detroit Pistons); Kenneth Faried (Denver Nuggets); Paul George (Indiana Pacers); Gordon Hayward (Utah Jazz); Kyrie Irving (Cleveland Cavaliers); Kyle Korver (Atlanta Hawks); David Lee (Golden State Warriors); Kawhi Leonard (San Antonio Spurs); and Klay Thompson (Golden State Warriors).
Copyright 2014 KPTV-KPDX Broadcasting Corporation. All rights reserved.