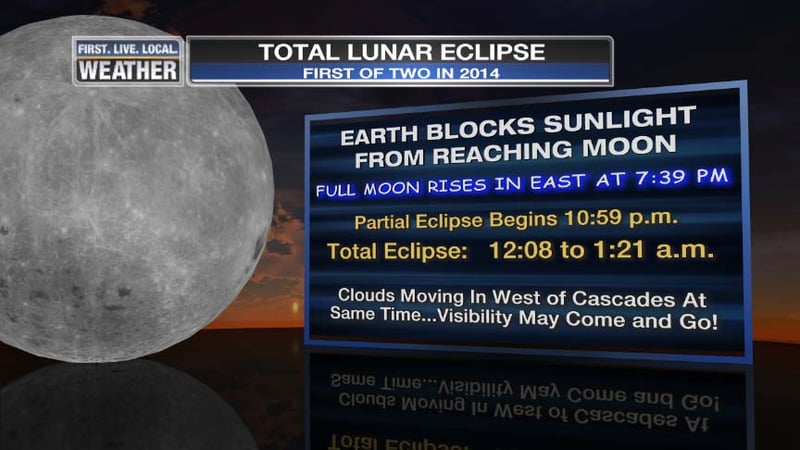 PORTLAND, OR (KPTV) -
Space fans will be able to witness quite a show in the night sky Monday.
The first of two total lunar eclipses in 2014 will be visible from the Pacific Northwest beginning Monday with a partial lunar eclipse at 10:59 p.m.

A lunar eclipse occurs when Earth comes between the moon and the Sun. Earth blocks direct sunlight from reaching the moon. As a result, the moon will glow a reddish hue, leading to its nickname "blood moon."
The total eclipse will begin at 12:08 a.m. Tuesday and last for 73 minutes. The eclipse will reach a maximum at 12:46 a.m.
Unlike solar eclipses in which the Sun's rays can damage the eyes, lunar eclipses are safe to watch with the naked eye.
Of course, the viewing of this lunar phenomenon is dependent upon our weather.
FOX 12 forecasters say that there will be a 50 percent viewing chance of the eclipse. A weak system will bring increasing clouds later Monday afternoon and into the evening hours, possibly preventing a clear view.
Copyright 2014 KPTV-KPDX BroadcastingCorporation. All rights reserved.