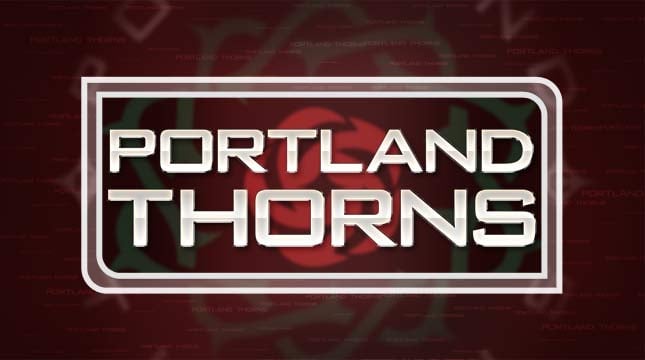 Forward Jessica McDonald recorded a brace, midfielder Allie Long scored a goal in a third consecutive match and goalkeeper Nadine Angerer made six saves as Portland Thorns FC earned a 3-1 win against FC Kansas City in Portland's regular-season home opener before 14,124 fans at Providence Park on Saturday night.

McDonald's two-goal performance, the second of her National Women's Soccer League career, came in the final six minutes of the match as Portland pushed numbers forward looking for the go-ahead goal. Tied at 1-1 in the 84th minute, McDonald slotted a shot past FC Kansas City goalkeeper Nicole Barnhart from close range following a nice passing sequence between Long and substitute midfielder/defender Sarah Huffman.

Second-half substitute midfielder Meleana Shim factored in on the next goal just four minutes later when she played a long pass down the left channel into space for McDonald. The forward was then able to run onto the ball and lob a shot over the oncoming goalkeeper with the outside of her right foot for her second goal of the match. McDonald, who became just the second Thorns FC player all-time to register a brace, finished with a game-high four shots on goal. In addition, McDonald becomes just the second player to tally four points in a single match for Portland.

Playing its first home match since Aug. 4, 2013 – a span of 265 days – Portland came out attacking from the opening whistle, pressing the FC Kansas City defense, and was unlucky not to score a goal as Long and forward Christine Sinclair each missed chances in the opening 20 minutes.

Shortly before halftime, Long staked Thorns FC to the lead as she outmaneuvered a defender down the right flank and into the penalty box where she was cut down by defender Becky Sauerbrunn and awarded a penalty kick in the 44th minute. The goal, Long's third tally in three consecutive matches, saw the midfielder tie her NWSL career high in goals set during the inaugural season in 2013.

Delivering seven shots on goals during the match, FC Kansas City notched the equalizer on a penalty kick in the 56th minute as midfielder Erika Tymrak was tripped up on the left edge of the penalty box early in the second half. Forward Lauren Holiday, the 2013 NWSL Most Valuable Player, stepped up to take the spot kick and fired a strong shot past Angerer to the goalkeeper's right side, knotting the score, 1-1.

Just minutes prior to McDonald's go-ahead tally for Thorns FC, Angerer made a leaping save to guide a shot from FC Kansas City midfielder Jenna Richmond safely over the crossbar. The save, one of a season-high six on the night for the German international, helped keep the match level and ignited a late push from Thorns FC. Angerer made diving stops on forward Amy Rodriguez and midfielder Jen Buczkowski in the first half as both teams earned good scoring opportunities as the match started to open up.

FC Kansas City's Barnhart made six saves and the two teams finished level on shots, 16-16, while Portland earned the advantage in shots on goal, 10-7. Portland's 10 shots on goal tied for the second-most in a regular-season match by the club all-time.

Thorns FC take to the road for their next match, squaring off against the Western New York Flash in a rematch of the 2013 NWSL Championship Game on Saturday, May 3, at Sahlen's Stadium in Rochester, N.Y. The match is scheduled to kick off at 4 p.m. (Pacific) and will be available via a live webstream at www.portlandthornsfc.com.

Notes:
Prior to kickoff, Thorns FC held a special pregame ceremony to award returning players their championship rings and unveil a banner at Providence Park to commemorate the club's 2013 NWSL championship.
Saturday's home-opening match marked Portland's first home game since Aug. 4, 2013, a stretch of 265 days.
Saturday marked the first of three regular-season games between Thorns FC and FC Kansas City in 2014. The two teams met five times last season in all competitions with Portland registering a 2-2-1 record, including a come-from-behind, 3-2 win in the NWSL Playoffs semifinals.
With the win, Portland improves to 3-2-1 all-time against FC Kansas City, including a win in the 2013 NWSL Playoffs semifinal. Thorns FC have outscored FC Kansas City, 13-12, in the all-time series, with the two teams producing a combined 25 goals over six games.
Against FC Kansas City, Thorns FC set season highs in goals scored (3), assists (2) and shots on goal (10). The team's 16 shots on Saturday was second-most this season only to the 18 shot attempts on April 19 at Sky Blue FC.
Midfielder Allie Long scored in a third straight match with a penalty-kick goal in the 44th minute. The Thorns FC record for goals scored in consecutive games is four, set by Mana Shim July 14-31, 2013. With three goals through three games, Long has already matched her 2013 regular-season output for goals.
Forward Jessica McDonald scored her first goals as a member of Thorns FC and, with a brace, becomes just the second player in team history to record a multiple-goal game. With four points on the night, McDonald also matched the team's single-game mark for points (4), last accomplished by forward Christine Sinclair on July 28, 2013.
McDonald scored her goals in the 84th and 88th minutes, and the 4-minute, 18-second span between goals is the fastest time between goals all-time for Thorns FC in a regular-season match.
Portland's 10 shots on goal tied for the second-most all-time in a regular-season match by the club.
Goalkeeper Nadine Angerer recorded a season-high six saves against FC Kansas City. She entered Saturday's match having made four total saves through the first two games of the regular season.
Midfielder Allie Long and defender Nikki Marshall each started their 25th consecutive match for Thorns FC dating back to the 2013 season.
Defender Kat Tarr made her Thorns FC debut, coming off the bench and playing the final eight minutes of the match
Release from Portland Thorns.