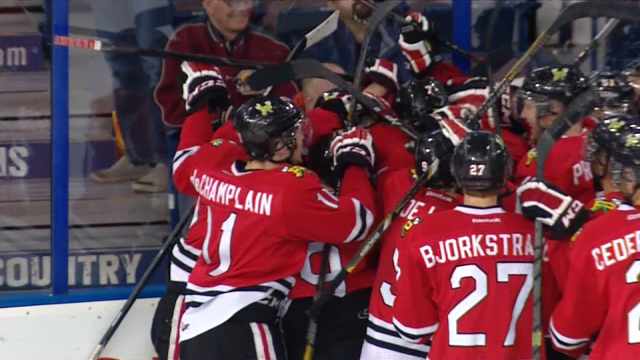 There was no big celebration this time for the Winterhawks, who fell 4-2 to Edmonton.
PORTLAND, OR (KPTV) -
The Portland Winterhawks' season came to an end Monday as the Edmonton Oil Kings took Game 7 of the WHL Final 4-2 in front of a soldout crowd of 10,095 at Veterans Memorial Coliseum.
The Oil Kings claimed the Ed Chynoweth Cup with the victory.

The Hawks struck first 4:42 into the game when Oliver Bjorkstrand led a rush up the ice and fired a shot that beat Edmonton netminder Tristan Jarry for a 1-0 lead Portland took into the second period.
Edmonton got on the board 3:50 into the second when Mitch Moroz scored to even the game at 1-1. They made it 2-1 when Curtis Lazar scored a shorthanded goal at the 9:02 mark, and made it a two-goal game when Reid Petryk scored 40 seconds later for a 3-1 lead. They added a goal from Mads Eller at the 17:17 mark to take a 4-1 lead into the third.
The Hawks came out in the final frame looking to replicate their three-goal comeback in Sunday's Game 6. They outshot Edmonton 15-6 in the period, and finally broke through and got within two when Brendan Leipsic scored a power play goal at the 16:38 mark to cut it to 4-2. The Hawks kept pressing, but Jarry turned away each attempt as Edmonton finished with the 4-2 win to claim the Ed Chynoweth Cup as WHL champions.
Brendan Burke got the start in net for Portland and made 29 saves on 33 shots. Jarry finished with 32 saves on 34 Portland shots.
It was the third straight championship series between the two teams, as they played 20 of a possible 21 games over the three years.