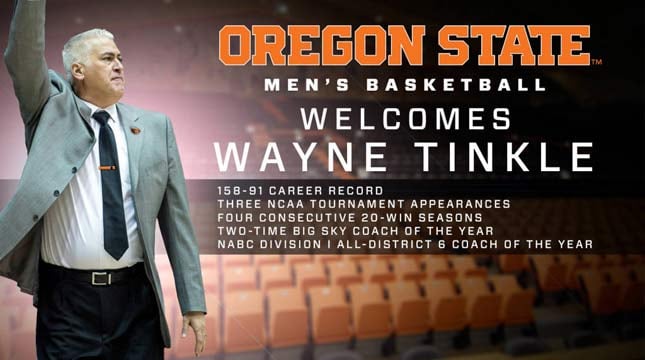 Courtesy: Oregon State Athletics
CORVALLIS, OR (AP) -
Wayne Tinkle, who coached the past eight seasons at Montana, has been hired as Oregon State's new head coach on Monday night.
Tinkle took the Grizzlies to the NCAA tournament three times in his tenure with the team. Montana finished below .500 only once during that span.
The 48-year-old replaces Craig Robinson, brother-in-law of President Barack Obama, after he was fired earlier this month following six seasons with the Beavers where he failed to make the NCAA tournament. The once-proud Beavers have not been to the NCAA tournament since 1990.
Tinkle went 158-91 with the Grizzlies, compiling the second-most victories in school history. The only slight on his resume at Montana was an inability to get an NCAA tournament victory, something the Grizzlies have not had since beating Nevada in the first round in 2006.
Copyright 2014 The Associated Press. All rights reserved. This material may not be published, broadcast, rewritten or redistributed.