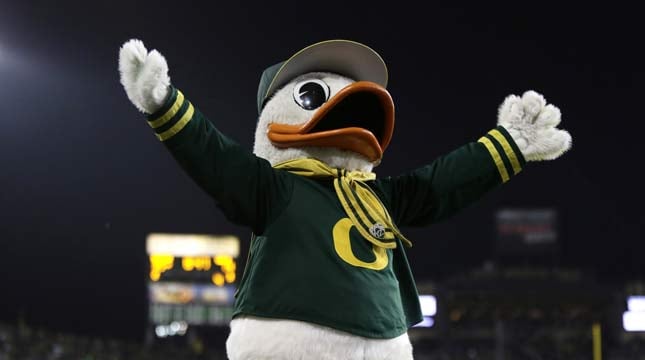 The Duck should have an easier time posting his selfies to Instagram this fall.
EUGENE, OR (KPTV) -
Good news, Oregon Ducks fans: it's about to get easier to post your Autzen Stadium selfies to Instagram.
The nation's two biggest mobile network companies -- AT&T and Verizon Wireless -- recently installed a distributed antenna system throughout the seating bowl of the stadium to improve cell network capacity.
That change should make for a "big difference" when fans pull out their smart phones at Ducks football games this season, according to the University of Oregon athletic department. Rob Mullens, UO's director of athletics, said it will be easier for fans to "share their experience with family, friends and fellow Ducks fans."
PK Park, home of Oregon's baseball team, and Pape Field, home of UO soccer and lacrosse, are also benefiting from the project.
The Ducks' football season kicks off Saturday night when they host South Dakota. Kickoff is set for 7:30 p.m.
Copyright 2014 KPTV-KPDX Corporation. All rights reserved.