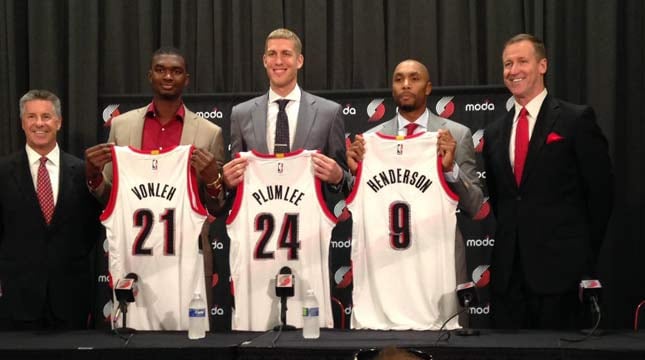 Portland Trail Blazers
PORTLAND, OR (KPTV) -
The Portland Trail Blazers welcomed their three newest players to Rip City on Monday.
The Blazers acquired veteran guard Gerald Henderson and 19-year-old power forward Noah Vonley in the deal that sent Nicolas Batum to the Charlotte Hornets.
They will wear numbers 9 and 21 respectively for the Blazers next season.
Another player introduced Monday was center Mason Plumlee. The 6'11" center came to Portland in a draft day deal that sent guard Steve Blake and the rights to first round pick Rondae Hollis-Jefferson to the Brooklyn Nets.
Portland also received rookie Pat Connaughton from Notre Dame in that deal.
The Blazers still have plenty of questions going into next season, the biggest being the status of free agent all star forward LaMarcus Aldridge.
The NBA's window to negotiate with free agents begins Tuesday at 9 p.m. Pacific Time.
No signings can be made official, however, until July 9.
Copyright 2015 KPTV-KPDX Broadcasting Corporation. All rights reserved.