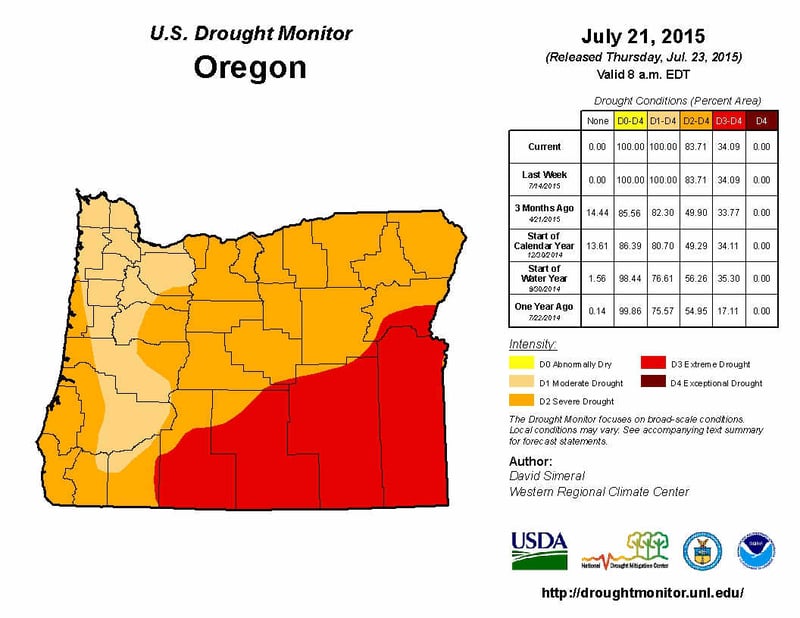 PORTLAND, OR (KPTV) -
Oregon's drought conditions held steady since last week, despite another seven days of no rain.
One hundred percent of Oregon remains in some form of drought condition, 50 percent of which are severe. Just three months ago, only 16 percent of the state was experiencing severe drought conditions.
Also unchanged was the percentage of the state under extreme drought. Well over a quarter of the state, mainly in southeastern Oregon, is experiencing the second-worst category of drought with no signs of relief.
Locally, the Willamette Valley is under a moderate drought. Portland has picked up only 1.30 inches of rain since April 21. That was the last time that Portland was not experiencing any drought conditions.
The weekend forecast for northwestern Oregon will have a different feel. Showers are expected to fall both Saturday and Sunday. Since June 3, Portland has only picked up .43 inches of rain. Some weather information hints that we may get at least half that by Sunday morning.
Despite the rain in the forecast, Portland needs more than predicted. In order to end Portland's moderate drought in one month, three to six inches of rain would have to fall. To end the extreme drought in the southeastern corner of the state, at least six inches of rain would have to fall in a month.
Copyright 2015 KPTV-KPDX Broadcasting Corporation. All rights reserved.