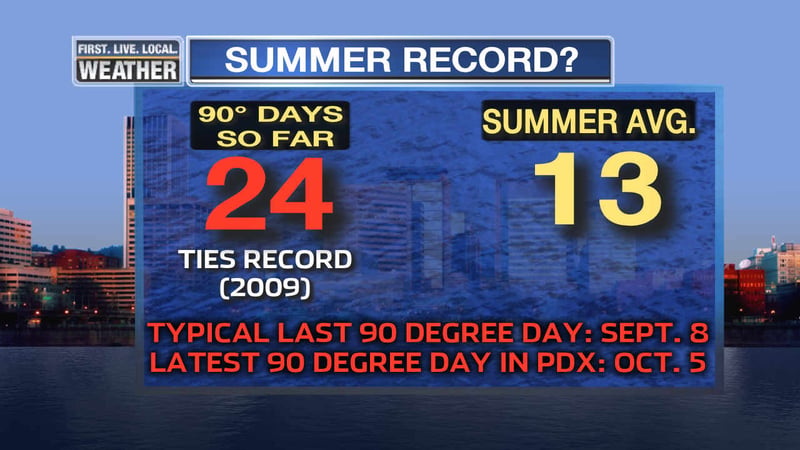 PORTLAND, OR (KPTV) -
Keep your eye on the sky this morning and the thermometer this afternoon.
Portland is on the verge of breaking a summer record of number of 90 degree days. After Wednesday reached 91 degrees for a high, Portland officially tied the number of days at 90 degrees or warmer which is set at 24 days.
The record is not all that new, previously held by the summer of 2009.
The wild card Thursday will be morning clouds. If Portland gets socked in with clouds to start the day, we may just miss out on 90 degrees and a new record. However, if the clouds mix out early or fail to develop, 90 degrees is certainly in play.
On average, Portland sees 13 days in the 90s or above each summer. Normally, Portland's final 90 degree day is usually on September 8. With six weeks of summer left, there is plenty of time for Portland to see more days in the 90s. In fact, the latest into a year Portland has reached 90 degrees was back on October 5, 1980.
If Portland does not do it Thursday, it will be a few days before temperatures climb back into the 80s. Friday is expected to be showery and cooler and the next day in the upper 80s is not expected to be until Sunday.
Copyright 2015 KPTV-KPDX Broadcasting Corporation. All rights reserved.