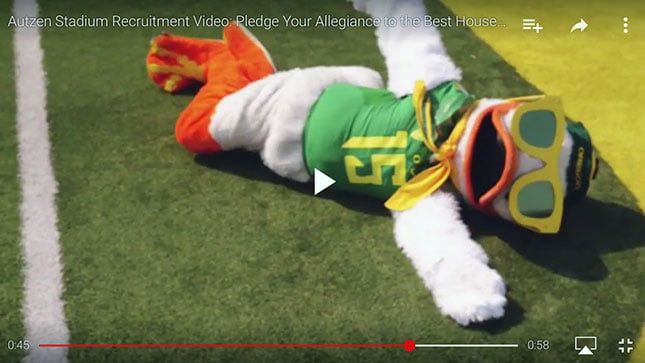 EUGENE, OR (KPTV) -
Nothing says "come watch a college football game" quite like glitter and shaking a tail feather.
The University of Oregon Athletic Department has released a new "stadium recruitment video" featuring their mascot Puddles parodying a clip that was posted from an Alabama sorority earlier this month.
The Alabama video was widely criticized, with a school official saying it wasn't, "reflective of UA's expectations for student organizations to be responsible digital citizens."
The Ducks video, titled "Pledge Your Allegiance to the Best House at Oregon," features Puddles snapping selfies, dancing with flowers, popping bubbles and blowing kisses to fans.
Earlier this summer, the Ducks also took to YouTube to release a 360 degree video that gave fans a chance to experience entering the stadium as a player.
Copyright 2015 KPTV-KPDX Broadcasting Corporation. All rights reserved.