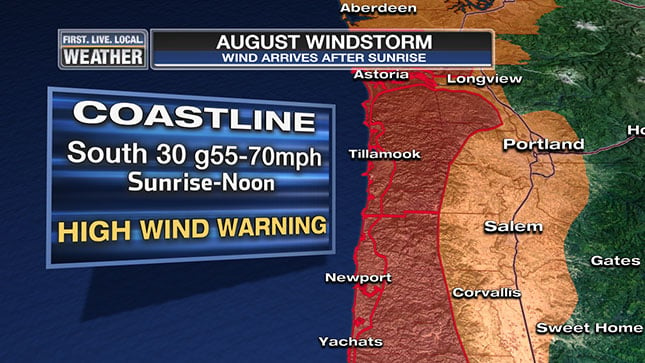 PORTLAND, OR (KPTV) -
The National Weather Service has issued a High Wind Warning for Saturday, warning of a strong cold front that could produce high winds and blowing dust.
The NWS alert noted that damaging winds will be possible late Saturday Morning into the afternoon.
Fox 12 Meteorologist Mark Nelsen noted in his latest weather blog post that the storm developing could be unprecedented for this time of year. Wind speeds could reach 70 miles per hour on the coast, and 45 miles per hour in the Willamette Valley, including the Portland metro area.
The combination of the power of this storm and the time of year could lead to a large number of power outages Saturday, due to leaves, branches and other possible debris damaging power lines.
Mark expects the wind gusts to arrive in the Salem and Portland areas between 8:00 a.m. and 10 a.m.
A huge concern with the wind is the effect on racers in the Hood to Coast relay, who will be running through the night Friday and early Saturday morning, when the gusts cause damage to trees along the route and to the tents and stages at the event's finish line.
You can stay up-to-date with the latest details on the weather alerts by downloading the Fox 12 weather app and if your power goes out, you can still watch Fox 12 app and KPTV.com.
Copyright 2015 KPTV-KPDX Broadcasting Corporation. All rights reserved.