PORTLAND, OR (KPTV) -
We're well into October, and that can mean only one thing: time to round up the family and friends and head to your local pumpkin patch.
Oregon and Washington have no shortage of local farms overflowing with pumpkins, so we asked our readers which pumpkin patches are the best around.
Here are 12 of the most popular choices (in alphabetical order):
1. BAUMAN'S FARM AND GARDEN
12989 Howell Prairie Road, Gervais, OR
2. BELLA ORGANIC PUMPKIN PATCH & WINERY
16205 NW Gillihan Rd., Portland, OR
3. BI-ZI FARMS
9504 NE 119th St., Vancouver, WA
4. EZ ORCHARDS
5504 Hazelgreen Rd. NE, Salem, OR
5. FAZIO FARMS
9028 NE 13th Ave., Portland, OR
6. FIR POINT FARMS
14601 Arndt Road, Aurora, OR
7. LAKEVIEW FARMS
32055 NW North Ave., North Plains, OR
8. LEE FARMS
21975 SW 65th Ave., Tualatin, OR
9. HEISER FARMS
21425 SE Grand Island Loop, Dayton, OR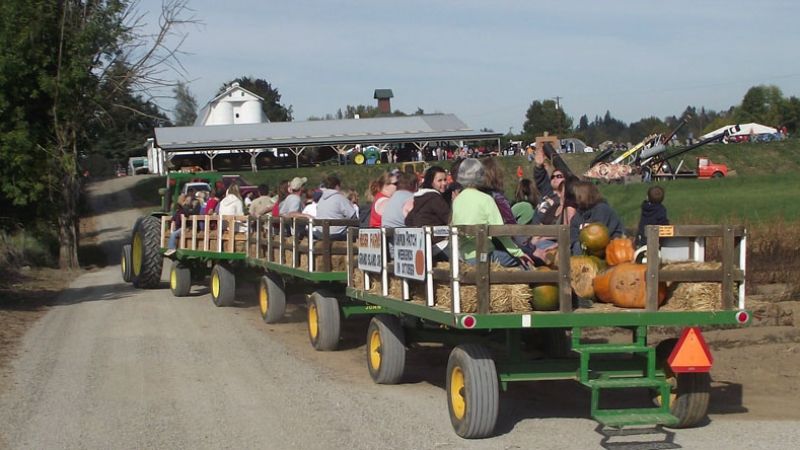 10. THE PUMPKIN PATCH ON SAUVIE ISLAND
16511 NW Gillihan Rd., Portland, OR
11. ROLOFF FARMS
23985 NW Grossen Dr., Hillsboro, OR
12. A WALK ON THE WILD SIDE
6815 S. Knights Bridge Rd., Canby, OR 97013
If we missed one of your favorites, share it with us by posting a comment!
Copyright 2015 KPTV-KPDX Broadcasting Corporation. All rights reserved.