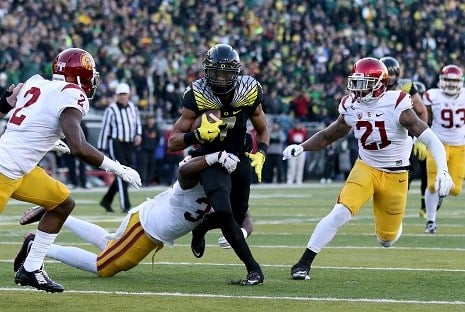 By ANNE M. PETERSON
AP Sports Writer
EUGENE, Ore. (AP) - Vernon Adams Jr. threw for 407 yards and six touchdowns and the No. 23 Oregon Ducks defeated No. 22 USC 48-28 on Saturday for their fifth straight victory.
The Ducks (8-3, 6-2 Pac-12) have not dropped a game since Adams returned from a finger injury he sustained in the season opener against Eastern Washington. It was the third game since coming back that he's thrown for 300 or more yards and at least four scores.
Royce Freeman rushed for 147 yards in his seventh straight game going above the 100-yard mark for the Ducks, who awaited the outcome of Saturday night's game between Stanford and California to see if they were still alive for the Pac-12 North title.
The Trojans (7-4, 5-3) were still vying for a spot in the conference championship game, but no longer controlled their own destiny in the Pac-12 South.
Copyright 2015 The Associated Press. All rights reserved. This material may not be published, broadcast, rewritten or redistributed.