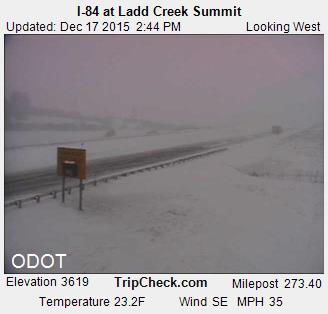 Image: TripCheck.com
LA GRANDE, OR (KPTV) -
Interstate 84 is shut down between La Grande and Baker City due to snow and icy conditions.
Oregon Department of Transportation crews are containing their 24-hour coverage of plowing and sanding highways in the eastern part of the state being hit by snow, ice and high winds.
Along with the closure of all lanes between La Grande and Baker City on Thursday, eastbound I-84 was closed between La Grande and Pendleton.
"There have been several crashes and vehicles are sliding on slick roads," said ODOT Public Information Officer Tom Strandberg. "Many of the crashes are due to motorists driving too fast for the conditions. It is icy in spots and the blowing snow is impacting visibility and creating drifts on some roads. People need to slow down and give plenty of room for vehicles in front of them."
Forecasts call for more wintery weather over the next few days. Drivers are advised to check TripCheck.com for the latest updates on closures and delays.
Copyright 2015 KPTV-KPDX Broadcasting Corporation. All rights reserved.