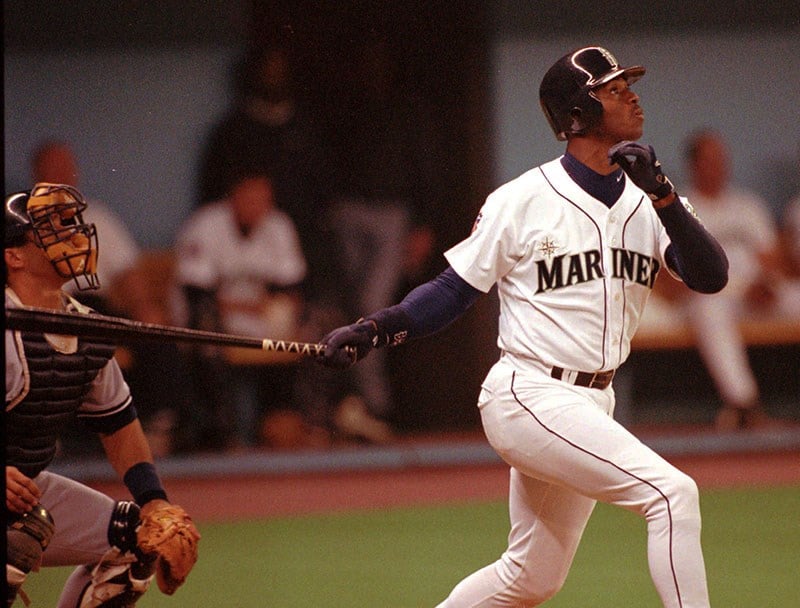 Seattle Mariners' Ken Griffey Jr. and New York Yankees catcher Joe Girardi watch the flight of Griffey's first-inning home run Tuesday, April 1, 1997 in Seattle.
NEW YORK (KPTV) -
Ken Griffey Jr. played 13 of his 22 major league seasons for Seattle, and now he is heading to Cooperstown as a Mariner.
Griffey, who picked up a record 99.3 percent of the vote, will go in to the Baseball Hall of Fame this year alongside Mike Piazza.
Griffey said Thursday at a news conference in New York that his time and success in Seattle led him to choose to be enshrined as a Mariner.
During his MLB career, Griffey also played eight and a half seasons for the Cincinnati Reds, as well as a half season with the Chicago White Sox in 2008.
Griffey will be the first player in the Hall of Fame as a Mariner. Randy Johnson, who was inducted into the Hall in 2015, is enshrined as wearing his Arizona Diamondbacks cap, and Hall of Famers Goose Gossage, Ricky Henderson, Gaylord Perry and Dick Williams all played for Seattle during their careers.
Griffey and Piazza will be inducted into the Hall of Fame during ceremonies in July.
Copyright 2016 KPTV-KPDX Broadcasting Corporation. All rights reserved.