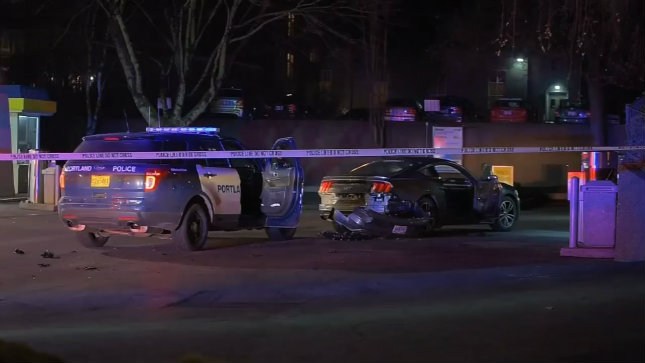 PORTLAND, OR (AP) -
Authorities say they have arrested a driver who hit a pedestrian in downtown Portland and sped away from the scene.
The Portland Police Bureau say a 50-year-old male victim suffered from traumatic injuries on Sunday morning and was transported to a Portland hospital. He is in critical condition.
Police quickly spotted the suspect's car near the Portland University Campus and used a special intervention technique to stop it. A police vehicle bumped the suspect's car, forcing it to spin sideways and stop, leading to the arrest.
Jamal Fike, who lives in an apartment building nearby, said he heard the crash that injured the man from the seventh floor.
"I was just making breakfast and I heard like a hit, like a shot. So I ran to the window and I saw the car, and heard the car leaving, going the wrong way on Market, past 11th," said Fike.
The name of the driver, an adult male, has not been released. Preliminary information indicates he may be under the influence of alcohol.
Copyright 2016 KPTV-KPDX Broadcasting Corporation and The Associated Press. All rights reserved. This material may not be published, broadcast, rewritten or redistributed.