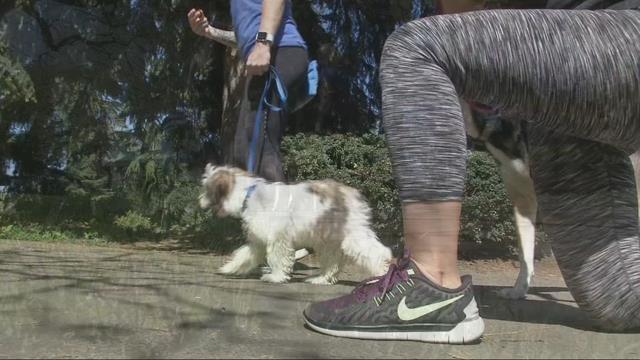 Can't find the time to exercise your dog, or stay active yourself? A unique business may be the answer by giving you and your pup a workout.
Sit Stay Fit trainers will strengthen your dog's legs through puppy paw-ups and teach them how to jump over all kinds of obstacles.
It's the ultimate doggy workout, but owners are a part of it as well.
Jenna Kirby and Jamie Lawrence opened the studio in 2012, when the dog trainers wanted to merge their passion for animals and fitness.
They developed an hour class for the time saving dog owner, and the indoor and outdoor classes offer everything from drills and relays to circuits and strength intervals.
Every session even incorporates basic training.
The company offers drop in classes for $20 per session, as well as a five week option.
There's no age limit for your animals, but your dog must be cleared with the veterinarian for fitness and activity.
To learn more about Sit Stay Fit, go to SitStayFit.com.
Copyright 2016 KPTV-KPDX Broadcasting Corporation. All rights reserved.